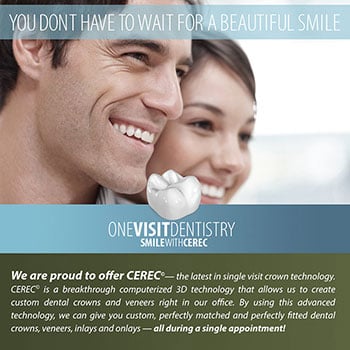 Your time is valuable, which is why our experienced dentist, Dr. Arun Narang, and our skilled dental team utilize the most advanced dental treatments and technology available. Nobody wants dental decay and damage to occur, but in the event it does, CEREC® same-day restorations can repair and revitalize your smile in less time than ever before. Also known as CEREC® one-visit restorations, this innovative option is designed to restore your teeth to their original strength and beauty without requiring a follow-up visit.
CEREC® uses CAD-CAM technology to generate custom-made ceramic fillings and dental crowns that precisely fit the affected tooth (or teeth) for the greatest comfort and function possible. Furthermore, the ceramic material is 12-15 times stronger than traditional fillings, for a longer lasting, more durable result that reduces the risk of tooth sensitivity. CAD-CAM stands for computer-aided design and computer-aided manufacturing. As a result of this advanced equipment, you can typically achieve significant benefits over traditional restorative techniques. Advantages of CEREC® include:
Designed, produced, and fitted in the same visit
Improved aesthetic appearance compared with metal fillings (no metal is used)
Reduced discomfort
Enhanced durability over white composite fillings.
In addition to ceramic dental crowns and fillings (both onlays and inlays), CEREC® can be used to produce porcelain veneers as well. Designed with your comfort, outcome, and safety in mind, CEREC® same-day restorations offer a more conservative approach to treating dental concerns; they allow us to maintain more of your natural tooth, and the ceramic is more biocompatible than many other materials. Dr. Narang can discuss your treatment options during your initial consultation, and you should feel comfortable asking questions about this and any of our procedures during your visit.
For more information about CEREC® same-day restorations, please contact our office. Our friendly and knowledgeable team will be happy to answer questions and help you schedule a consultation with Dr. Narang.