Maintaining a healthy smile is something we all strive for; however, tooth decay and damage can occur over time for a variety of reasons. These bothersome issues often can lead to functional and aesthetic concerns, which may include having others perceive you differently than you would prefer. To help repair and protect your teeth when dental problems arise, Dr. Arun Narang & Associates and our experienced
dental surgeon
and periodontist offer a broad range of restorative treatment options designed to improve both the cosmetic appeal of your smile and the function of your teeth. In addition to replacing missing teeth with dental implants or advanced dentures, we offer durable porcelain fillings and many other procedures customized to accurately conform to your needs and help to ensure the highest level of comfort and appearance.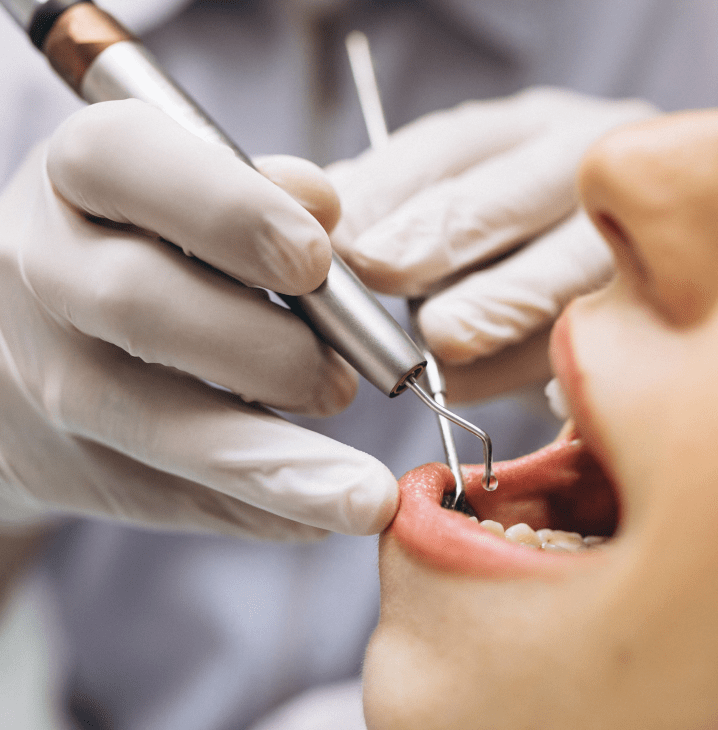 For more information about our restorative dentistry solutions, please click on the treatments listed below. If you have additional questions or wish to schedule a consultation with one of our doctors, please
contact our office
today.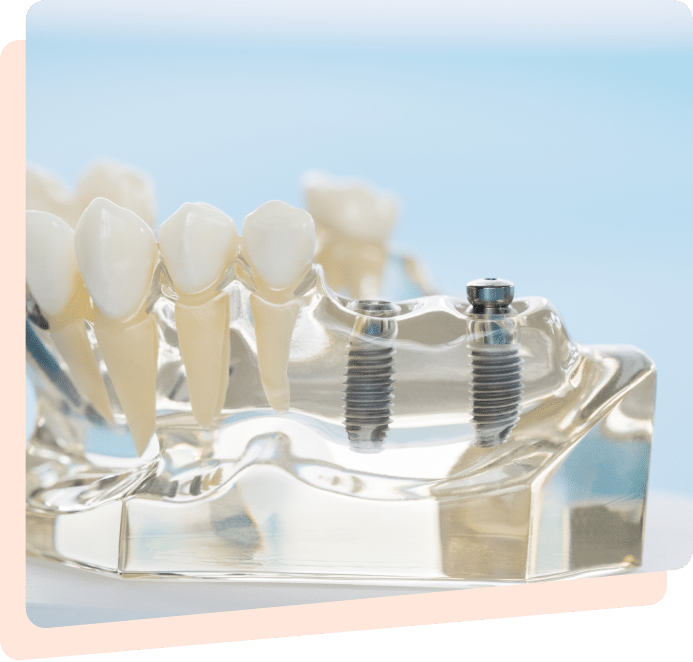 We can replace one or more missing teeth with results that look and feel natural. Dental implants are custom-designed, advanced alternatives to traditional dentures. They do not move or slip along the teeth, and they require no extensive maintenance other than regular brushing and flossing.
Implant-Supported Dentures

Implant dentures can replace missing teeth with natural-looking results. More stable, secure, and comfortable than traditional removable dentures, implant-anchored dentures are customized to suit your needs and can replace a quadrant or full arch on the upper or lower jaw.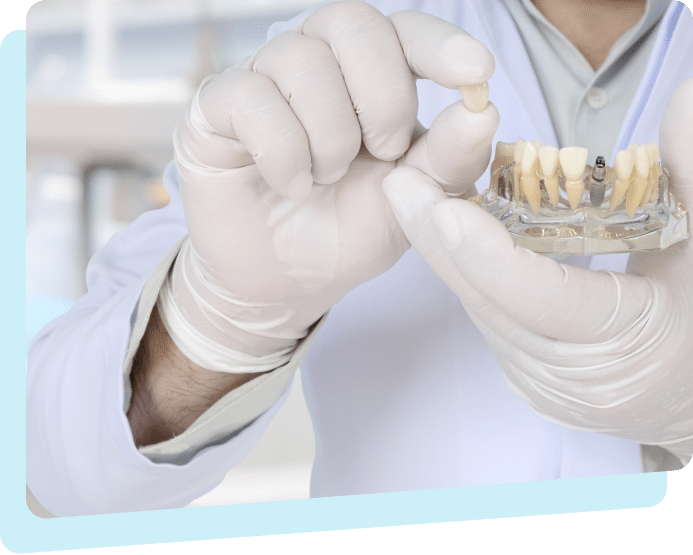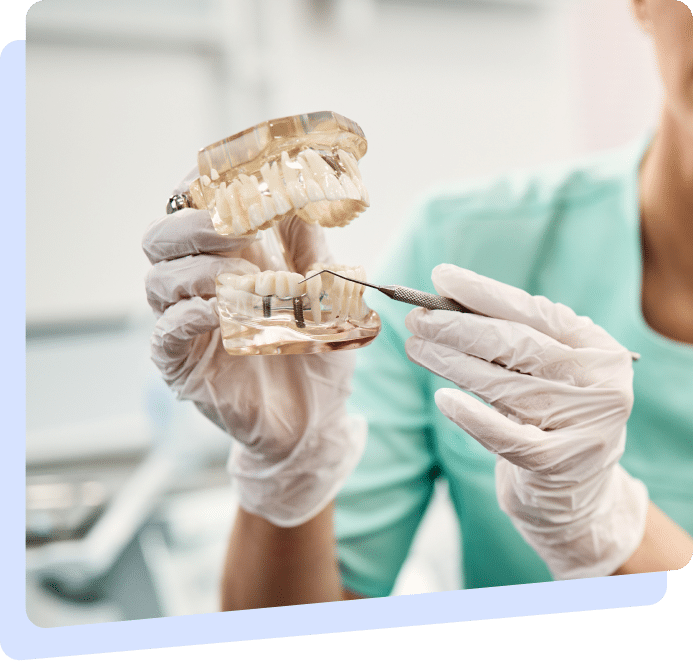 All-on-4™ –
Teeth in a Day

Save time and money when replacing all upper and/or lower teeth with All-on-4™ – Teeth in a Day dental implants. This innovative technique is designed to restore the beauty of your smile and function of your teeth with greater comfort than traditional dentures. Additionally, the procedure can be completed in a single day. Just like conventional dental implants, All-on-4™ is custom-made to ensure the most precise fit and most natural-looking result possible.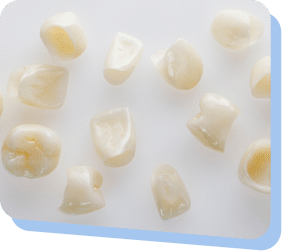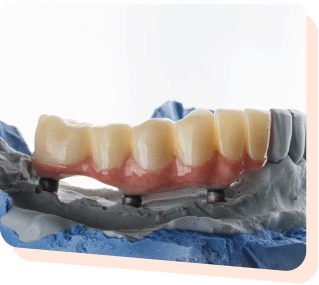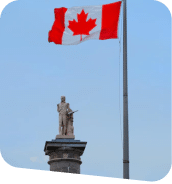 Porcelain Crowns and Bridges

Porcelain crowns and bridges from our office can help to restore the beauty and function of your smile with beautiful results. Crowns are designed to replace a single damaged tooth, though you may also wish to replace a crown that no longer appears cosmetically appealing. During the procedure, we will reshape the existing tooth so that a high-quality porcelain crown can be affixed on top. The crown will be customized to fit as perfectly as possible and appear as just another natural tooth.
Bridges, on the other hand, are intended to address multiple missing teeth in a row, provided you have healthy teeth on either side of the affected area. During this procedure, we will file down the healthy teeth bookending the gap so that a porcelain bridge can be attached, offering a seamless, uninterrupted smile. Bridges often can correct a misaligned bite and reduce the risk of spreading teeth, tooth decay, and gum disease in the treated area. While not everyone is a candidate for a bridge, we can help you determine if this treatment can achieve your cosmetic and functional goals.

We offer both full and partial implant anchored dentures, which can give many patients an abundance of benefits when compared with conventional dentures or no treatment at all, including improved comfort, stability, cosmetic appearance, and bite function. Denture replacement can even help to protect your facial bone structure from the risk of deterioration over time. Denture replacement can be an excellent choice if you're tired of slipping or imperfectly fitting dentures, or if you simply dislike the appearance of the clasps that commonly are used in traditional partials. There are several approaches for denture replacement, and we will be happy to discuss all the available options to help you find the optimal technique based on your anatomic needs and expressed goals.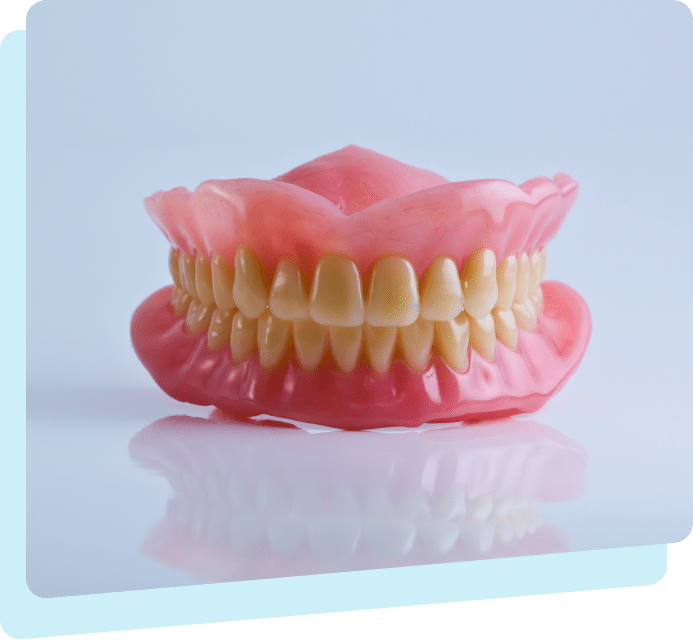 Full Mouth Reconstruction

If you have multiple damaged or missing teeth, discolouration, and other bothersome concerns, full mouth reconstruction may be right for you. This procedure will be customized to suit your unique needs, whether that may be dental implants, crowns, teeth whitening, or a combination of several approaches. We can also help to correct bite alignment, which can improve chewing and speaking, as well as address any decay or disease that may have developed. Our goal is to restore both form and function to your teeth for a beautiful, healthy smile.
If you have additional questions about any of our restorative dentistry treatments, or if you wish to schedule a consultation with one of our dentists, please 
contact us
 today.