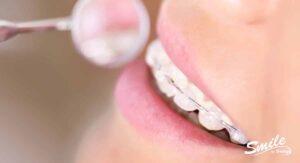 It's one of the first questions patients ask: "Do braces hurt?" It's a reasonable thing to wonder about. The truth is, everyone's experience is unique. How comfortable your orthodontic treatment will be depends on many factors, including the technique used, the amount of correction needed, and individual tolerance levels. The good news is, most people find that straightening their teeth is relatively painless. Dr. Arun Narang & Associates offer both traditional metal or ceramic braces and Invisalign® clear aligners. And each method "feels" a little different.
Applying the conventional braces shouldn't hurt. The brackets are bonded onto the teeth using a special dental adhesive. You may feel some soreness after the office visit and for up to about a week as your teeth adjust to the light pressure that helps gradually guide them into position. Your cheeks, tongue, and soft oral structures may also be a little sore while they get used to the sensation of orthodontic materials. We can provide some wax to cover any areas of the appliances that are particularly sensitive.
Invisalign® uses a series of clear, removable aligners to move the teeth into the desired position. You may experience some mild soreness when using a new aligner tray, but this feeling should fade within a few days. It's important to wear your aligner tray at all times other than when eating, drinking, brushing, and flossing to achieve the best results in the shortest period of time. If your Invisalign® appliance feels noticeably uncomfortable, you should contact us right away to ensure the fit is as it should be.
It's exciting to get orthodontics for the first time, but it can also be a little nerve-racking. We're here to help you feel more at ease. Let us know if you're experiencing any discomfort, and we can recommend some ways to enhance your treatment.