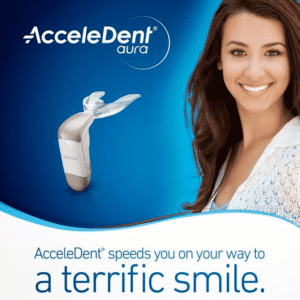 Adults and teens around the country are enhancing the appearance and function of their teeth with the help of Invisalign® orthodontic treatment. This technique uses a series of clear, removable aligner trays to gradually shift teeth into the desired position. Invisalign® already offers a potentially shorter treatment time than traditional metal and ceramic braces, but did you know that our experienced dentists also offer AcceleDent® Aura, which can further expedite the process?
AcceleDent® Aura is an innovative dental device that uses SoftPulse™ vibration technology to hasten the movement of the teeth and shorten orthodontic treatment time. The appliance, which works with traditional braces as well as Invisalign®, is used for 20 minutes per day and can reduce the length of the orthodontic process by half. Instead of wearing each aligner for two weeks, by using this device you can move onto the next tray in the series after just one week. Many people are anxious to achieve their teeth-straightening goals as quickly as possible. With AcceleDent®, the smile you've always wanted may be closer than ever.
If this device sounds like something you may be interested in, please reach out to our friendly and knowledgeable dental team for more information.