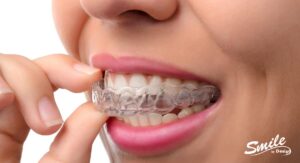 Virtually anyone can achieve a strong, functional bite and beautiful, straight teeth with the orthodontic options that are now available. For optimal results, it's important to utilise the best method for your needs and goals. At our state-of-the-art practice, our experienced dentists offer conventional metal and ceramic braces as well as Invisalign® clear aligners. Each technique offers unique benefits. One treatment is not necessarily "better" than the other; however, there are certain anatomic indicators that could make one approach more effective for you than another. During your initial consultation, one of our skilled dental professionals will perform a thorough oral evaluation to determine which option or options can help you achieve the smile of your dreams.
Metal (and more recently ceramic) braces have long been used to address a comprehensive range of alignment and bite issues, including crowding, gaps, overbite, underbite, and crossbite. Invisalign® can also treat a broad array of concerns, although some instances of severe crowding or misalignment may be more effectively corrected using traditional orthodontics. Additionally, Invisalign® may not be right for patients who grind their teeth at night (as this could damage the aligner trays), or who anticipate difficulty wearing the trays for at least 22-23 hours per day. In addition to your personal preferences and lifestyle habits, many factors will be considered to determine the ideal orthodontic approach.
It's not uncommon for patients to favour a particular technique, and we do our best to honour these preferences. Above all, however, our priorities are to provide you with the most effective and safest treatment possible.