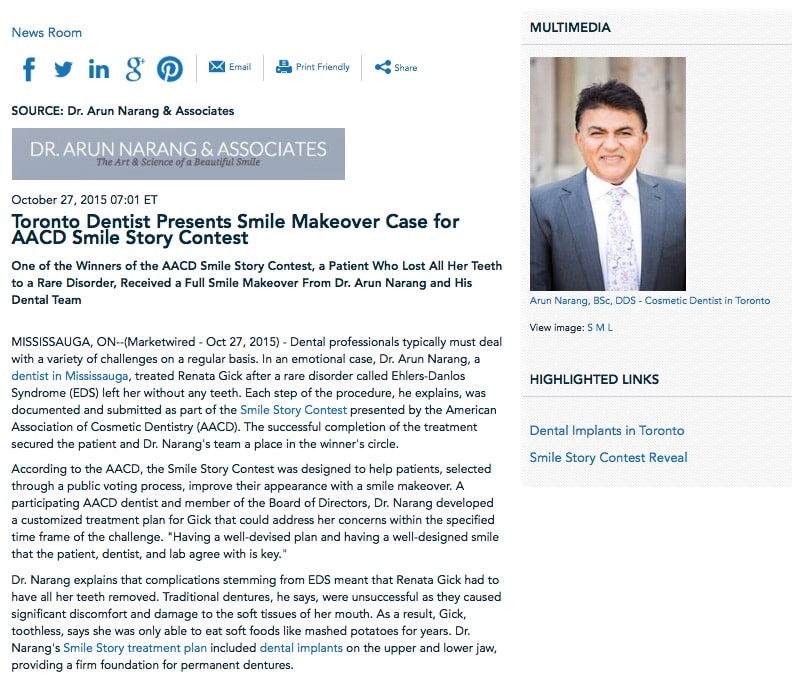 One of the winners of the AACD Smile Story Contest, a patient who lost all her teeth to a rare disorder, received a full smile makeover from Dr. Arun Narang and his dental team.
Mississauga, ON — Dental professionals typically must deal with a variety of challenges on a regular basis. In an emotional case, Dr. Arun Narang, a dentist in Mississauga, treated Renata Gick after a rare disorder called Ehlers-Danlos Syndrome (EDS) left her without any teeth. Each step of the procedure, he explains, was documented and submitted as part of the Smile Story Contest presented by the American Association of Cosmetic Dentistry (AACD). The successful completion of the treatment secured the patient and Dr. Narang's team a place in the winner's circle.
According to the AACD, the Smile Story Contest was designed to help patients, selected through a public voting process, improve their appearance with a smile makeover. A participating AACD dentist and member of the Board of Directors, Dr. Narang developed a customized treatment plan for Gick that could address her concerns within the specified time frame of the challenge. "Having a well-devised plan and having a well-designed smile that the patient, dentist, and lab agree with is key."
Dr. Narang explains that complications stemming from EDS meant that Renata Gick had to have all her teeth removed. Traditional dentures, he says, were unsuccessful as they caused significant discomfort and damage to the soft tissues of her mouth. As a result, Gick, toothless, says she was only able to eat soft foods like mashed potatoes for years. Dr. Narang's Smile Story treatment plan included dental implants on the upper and lower jaw, providing a firm foundation for permanent dentures.
The entire process took around four months to complete, Dr. Narang explains. In the end, he says Gick was able to achieve the look and function she desired and can now enjoy eating the foods she loves without concern for pain or injury. Furthermore, Gick expressed relief that she could finally smile with confidence and return to the activities she had been too embarrassed to undertake prior to treatment.
The five Smile Story contest cases were presented at the May 2015 AACD Scientific Session held in San Francisco. Gick's treatment was detailed in a seven-minute video highlighting her dental journey from start to finish. Asked about the experience, Dr. Narang said, "I felt challenged and up to the task, but I also appreciated the chance to really make a difference in someone's life."
About Arun Narang, BSc, DDS
Founder of Dr. Arun Narang & Associates and a member of the AACD Board of Directors, Dr. Narang is a dentist practicing in the Mississauga and Oakville, Ontario area. He has served as the Past President and Executive Member of the Toronto Academy of Cosmetic Dentistry (TACD) and has over 31 years of experience in the dental field. Dr. Narang hosted "Smile File" on Rogers TV, and he has been published in the Mississauga News & Oakville Beaver. He earned his dental degree from the University of Toronto. Dr. Narang is available for interview upon request.
For more information about Dr. Narang and his practice, please visit smilebydesigndental.ca and facebook.com/DrArunNarang.
Contact:
Dr. Arun Narang & Associates
Smile by Design:
3038 Hurontario St., Ste. 4
Mississauga, ON, L5B 3B9
(905) 897-1166
Oakville Dental Arts
1344 Cornwall Rd., Ste. 400
Oakville, ON, L6J 7W5
(905) 337-3511
Limelight Dental
4188 Living Arts Dr., Ste. 2
Mississauga, ON, L5B 0H7
(905) 949-2220