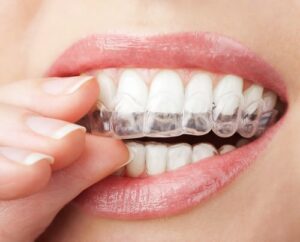 Revealing bright, healthy teeth is one way to make a great impression, and teeth whitening can help you keep your smile looking its best at all times. The only drawback for many people is the cost of upkeep, which can add up over time. Fortunately, our experienced dentists offer the Whitening for Life program. This unique approach to teeth whitening can make maintaining a smile you love to show off easier and more affordable than ever.
Whitening for Life begins with the in-office ZOOM!® whitening procedure (we also offer take-home kits as an alternative). This treatment can break up deep stains and brighten teeth by as many as eight shades. Once the ZOOM!® process is complete, we will create a custom-fit set of upper and lower dental trays. These can be used at home with a syringe of whitening gel, which we will provide during this visit and at each of your twice-yearly dental checkups. We will let you know how to use your new at-home whitening system, and how to ensure the trays last a long time. While the initial whitening treatment is a separate fee, the cost for the Whitening for Life program is just $100—and it's a one-time charge.
Some restrictions do apply. For additional information about our Whitening for Life program, we encourage you to reach out to us to learn more.