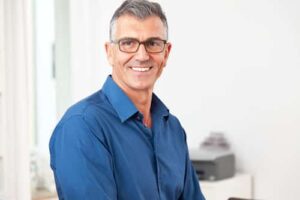 There are few experiences as frustrating as having missing teeth. This is true if you're missing one tooth or all of them, as each situation comes with unique issues. Fortunately, dental implants can help to restore your smile no matter how many teeth are missing, and the outcome can sometimes be even more beautiful (and durable) than a completely natural smile. Our extensively trained dentists offer a comprehensive selection of restorative options, and the right one for you will depend on your needs and what you're hoping to accomplish.
If you have one or several missing teeth, individual dental implants and implant-supported bridges can be an excellent way to repair your smile. The implants are attached to your jawbone in order to provide unparalleled durability and an exceptional fit. As a result, you won't have to worry about a removable appliance slipping around in your mouth. Dental implants are also designed to match the appearance of your natural teeth. Implants can also help to maintain bone structure, unlike traditional removable complete and partial dentures.
All-on-4™ – Teeth in a Day works the same way as traditional dental implants, and they are designed to replace all teeth on the upper arches, lower arches, or both. All-on-4 has an additional benefit—the implants can be placed in one visit. Since the technique uses just four precisely positioned anchor posts and a connecting restoration, treatment time and cost can be reduced. Quality can be maintained since we utilise some of the most advanced technology available to plan where the posts will be located. Just to note, in some cases six implants per arch may be necessary, in which case the procedure is known as All-on-6.
If those weren't reasons enough, dental implants also require no special maintenance. Simply brush, floss, and schedule regular checkups as you would for your natural teeth. There are many benefits to using dental implants, but the best way to find out if this treatment is right for you is to talk to our dentists. We're here to help you achieve a smile you feel confident revealing.
Editor's note: The original version of this post was published on July 7, 2016.