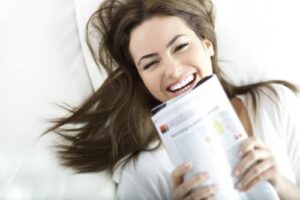 One of the easiest and most affordable ways to enhance the appearance of your smile is to whiten your teeth. Many common foods and beverages can stain teeth, and occasional whitening treatments can restore your beautiful pearly smile. Our experienced dentists offer state-of-the-art professional brightening techniques, including ZOOM!® and Spa Dent Naturals. However, many people opt for over-the-counter options. Is one better than the other? We take a closer look at the benefits and drawbacks of various whitening methods.
It's important to realize that not all over-the-counter whitening treatments are created equal. For instance, toothpastes can be considered "whitening" if they clean the teeth by removing surface stains—they aren't required to have a bleaching agent. We typically recommend avoiding these types of toothpastes as they can be abrasive to the teeth, causing wear and tear as well as greater sensitivity over time.
Whitening strips and gel whiteners can provide more effective whitening than toothpastes; however, the strength of the bleaching agent is significantly weaker than virtually any professional method, including both at-home and in-office treatment. Even so, many patients experience discomfort and sensitivity with use, something our professional methods help to minimize or even eliminate.
Essentially, over-the-counter whitening treatments can be useful in a pinch to touch-up minor stains. For more effective bleaching, professional methods offer dramatic brightening with less risk of harming the enamel on your teeth. Furthermore, professional whiteners can be customized to suit your needs and goals.
Still wondering which way to go? Talk to our team to learn more about your options or to schedule a consultation.